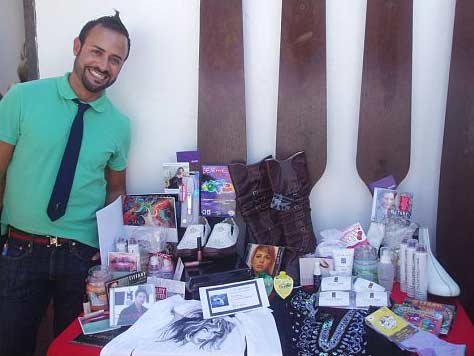 Last month, I was invited to an
"Operation Smile" event
in association with
"Reality Cares"
. Someone sent me this link to their
MySpace site
, with this lovely photo of me next to what seemed like a fabulous
Goodie Bag
! Miss
Janice Dickinson
hosted this event and there were lots of
"Survivor"
and
"Big Brother"
as well as
"American Idol"
personalities on hand to lend their name to this great cause. Love the photo, if there was a caption, it would read :
"Here is Nick from Project Runway ,with a bunch of goodies that he didn't go home with..."
Maybe Janice got them! Figures, damn! Just kidding, even though you may not believe me, I did not attend the event for the Goodie bag (didn't even know they had one!), I wanted to support this great cause and I respect the founder of Reality Cares and wanted to do this for him.
Below was the original posting...
"Nick Verreos / Project Runway at Operation Smile
How fun is this!!! We got the photos back from the charity event we did, Operation Smile, and there in the stack of pics is NICK VERREOS! Those of you who watch "Project Runway" (like we do) know he's from season two fame and an absolute doll of a human being. He and Malan are two of our most beloved designers from the show…..and here's Nick pictured with one of our Furlesque tees….we're so loving this! "